Chef Reid Shilling and Sara Quinteros-Shilling invite you to host your next event at Shilling Canning Company. Whether you are throwing a birthday party, business dinner or holiday soirée, our dedicated team will work with you to make your vision for the event a reality.
 If you have further questions or would like to tour the space please contact our events staff at info@shillingcanning.com.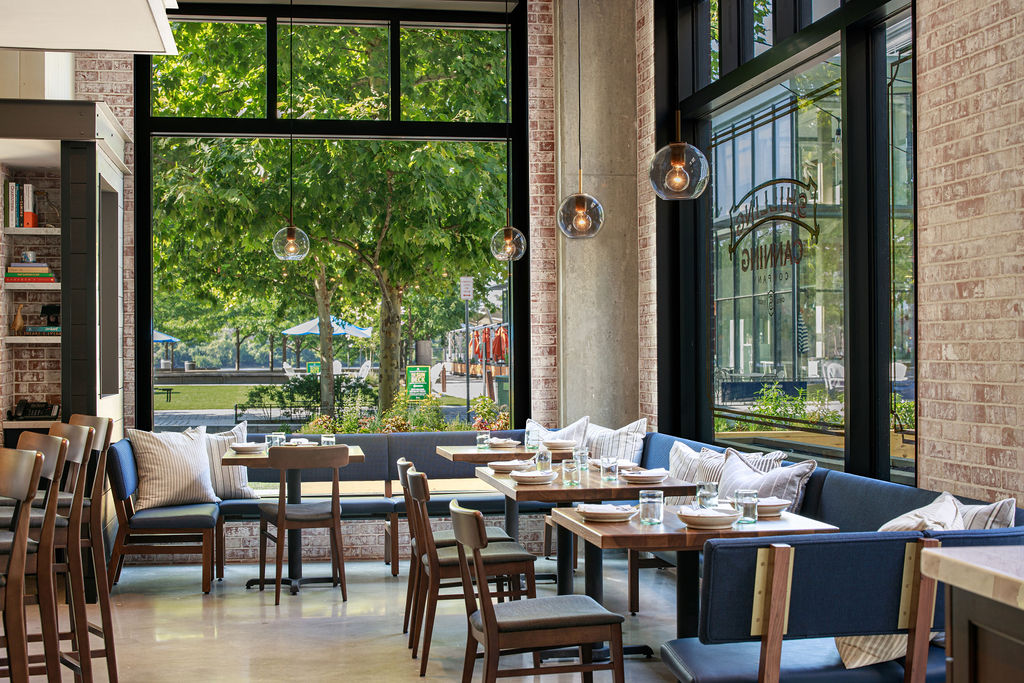 Shilling Canning Company offers a seasonal menu that changes throughout the year and features specialty items showcasing our best local products. Our premium Raw Bar is available as an enhancement to your event. Partner Sara Quinteros-Shilling's experience and certifications as a Registered Dietitian mean that SCC can cater to any and all dietary restrictions that your guests may have. Vegetarian, Vegan, Gluten-Free and Dairy-Free options can all be part of your private dining event upon request.
Shilling Canning Company offers selected wine to pair with any meal. From a light crisp white wine to aromatic full bodied red wine. The bar at Shilling Canning Company offers an array of classic and modern spirits. We can offer a full cocktail and beverage service to enhance your special event.
Shilling Canning Company will work closely with you to create a customized menu to complement your occasion for a seated lunch or dinner.
Shilling Canning Company's charming and knowledgeable dedicated dining room staff will bring efficient, attentive and professional service to your event. From our hosts, servers, bartenders, cooks and management we will ensure that the service will exceed your expectations.
Policies, Procedures & Questions
Phone numbers/Contact:
Main line for information etc: 202-554-7474 (noon-10pm)
Reservations/Google Text line: 202-417-6307 (4pm-10pm) "leave a message with reservation requests and/or general inquiries, someone will follow up within 10-15 minutes via text; if calling from a landline please let us know and we'll call instead".
Payments: Subject to change
30+ guests
10% Deposit due at the time of booking
Full payment due 30 days prior to the event
7-29 guests
Credit card for hold. $20 pp no show fee
Cancel Policy: Subject to change
30+ guests 30 day cancel policy prior to event date
20-29 guests 15 day cancel policy prior to event date
7-19 guests 72 hour cancel policy prior to event date
Do you allow decorations?
Small table decorations allowed with advance notice
We do not allow anything to be applied to the walls or building
We provide votive candles or small seasonal decor but if you choose to bring additional candles we require that they are in containers or on a stand to prevent any damage
Shilling Canning Company is not responsible for setup, breakdown or lost decor items
Is there a food and beverage minimum?
Yes pricing will be discussed during the booking process
Exclusive of tax and gratuity
Tax and 22% gratuity will be added to final bill
Can we bring outside food and beverages?
With the exception of cake we do not allow any outside food
We would be happy to cut and serve your cake
With the exception of wine no outside beverages will be allowed. The corkage fee is $30 per 750 ML bottle of wine
Need someone to cater your offsite party?
Allow Us to Host You!
Shilling Canning Company is available for your party needs. With private and semi-private options, stunning views, and a completely customizable menu, we can accommodate any gathering. Contact Now
Shilling Canning Company, Washington DC